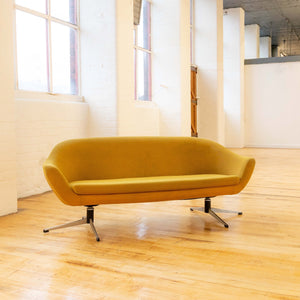 Meet Darlene, possibly one of the most beautiful 2 seater sofas we've ever had in stock.
With her iconic curves, Darlene is certainly a statement piece, and the perfect example of mid century design.
This sofa is from our 'Make it yours' range and the price includes your choice of either recycled wool from Kirkby Design's innovative 'Leaf' collection, which uses reconstituted wool from the fashion industry, a lovely wool from Abraham Moon & Sons 'Melton' range, or a fabric from the Linwood 'Lana' collection, available in a rainbow of colours.
You may like to upgrade to something like a beautiful fabric from Bute - just get in touch.
Approx dimensions:
Seat height 39cm
Width 172cm
Depth 49cm
Height from floor to top of
sofa
69cm
Priced at £1,100