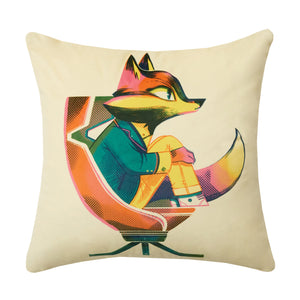 This lovely chap was a piece Guy Mckinley worked on after a chat with Simion asking if he had anything that may tie in with what we were doing at Reloved.
He said he had a few sketches of foxes in various poses in armchairs. Perfect.
Guy produced them himself as risograph prints, that made the first of the series. Then after the success of that print, a few months later he came back to that fox and felt he looked like he was part of something bigger, like his expression was reacting to something. So Guy drew the female hound dog as a response and reverse of the classic fox and hound. She, an effortless beatnik and he, a studious canine in awe of her – also available as a cushion here.
Guy's beautifully colourful work with these striking characters make a great pair. Either facing or even back to back opens up more options. Either way they may an interesting couple and the colours pop on the fabric as much as they did as a print.
Zip to the back with Reloved label of authenticity
Handmade in Manchester, GB

Fibre insert

Size: approximately 43cm x43cm
Dispatched in 1-2 working days - Royal Mail 1st class signed for 
or
Collect in person - If you're local, you may prefer to collect in person from our studio Reloved Works at Pear Mill in Stockport. Choose option at checkout and we will email you to arrange a convenient time for collection.